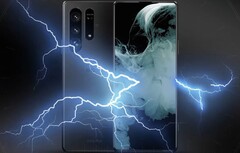 Despite not being one of the best-selling smartphone ranges on the market, there is always a lot of interest in the Sony Xperia line. A few more rumors about the 2023 Xperia 1 smartphone have popped up, with two of them seemingly contradicting arguably the most controversial piece of hearsay. According to a source on Weibo (via SumahoDigest), the "production costs" of the Xperia 1 V have gone down, presumably with the issues caused by the COVID-19 pandemic not being as problematic this time around. This could in turn lead to the Sony Xperia 1 V being cheaper than its pricey predecessors.
Of course, if the claim is true Sony might not pass the production savings on to the consumer anyway. The Xperia 1 IV was over 68% more expensive than the first Xperia 1 (US market launch price) while competitors like Samsung and Apple were much more customer-friendly with their iterative price hikes. It's almost as if Xperia fans expect the next-gen Xperia 1 to be priced through the ceiling anyway, and it isn't so bad as long as the hardware and software live up to expectations. But this same source worryingly states that there is no "evolution that will increase production costs".
In other words, "more of the same" could be the key descriptive phrase for the transition from the Sony Xperia 1 IV to the Xperia 1 V, although not only is this unlikely but other rumors have also refuted this potential state. For starters, the 2023 Mark 5 version of the Xperia 1 is expected to get a vapor chamber as part of its cooling system (whereas the Xperia 5 V will supposedly not). Even more interesting is that the Sony Xperia 1 V could receive vital hardware buffs in the forms of LPDDR5X RAM and UFS 4.0 storage. The predecessor features LPDDR5 RAM and UFS 3.1 storage, so these would be definitive upgrades for the next-gen Xperia 1 if true. LPDDR5X can hit 8,533 Mbps (LPDDR5: 6,400 Mbps) while UFS 4.0 can reportedly double the performance of UFS 3.1.

My interest in technology began after I was presented with an Atari 800XL home computer in the mid-1980s. I especially enjoy writing about technological advances, compelling rumors, and intriguing tech-related leaks. I have a degree in International Relations and Strategic Studies and count my family, reading, writing, and travel as the main passions of my life. I have been with Notebookcheck since 2012.