In today's commercial AV and security integration world, simply doing the installation and providing customer service is not enough. Integrators now have to go the extra mile to deliver the best possible solutions to clients. To achieve this, several integrators have begun to look inward to streamline their operations and improve their bottom line. As a result, business-resource software applications have risen exponentially and secured a position as part of integration businesses' core operations. 
In this Business Resources Deep Dive by Commercial Integrator + Security Sales & Integration, we shall draw on the latest industry research, along with commentary from reputable integrators, to paint a picture of the growing importance of business-resource software, its various applications, and the implications of artificial intelligence's integration into different software utilized by commercial AV and security integration firms. 
Rising Exigency of Business-Resource Software
According to Tobi Tungl, RCDD, CTS-D, chief marketing officer, CTI, software applications are not just a support tool for commercial AV and security integrators today; instead, they are a driving force behind optimizing integration firms' operations. He explains, "Software applications have streamlined our internal processes, enhancing efficiency and productivity across all departments globally. They provide real-time data insights, enabling data-driven decision-making and strategic planning." 
For Tungl, software applications not only improve internal processes and customer interactions but also have helped shape many of his company's marketing efforts. He adds, "Marketing automation tools have allowed us to segment our audience, tailor content and execute targeted campaigns with precision." With the help of real-time data analytics and predictive modeling, Tungl and his team can anticipate market trends and consumer preferences. "This agility is crucial in today's fast-paced business environment," he underscores. 
Tungl is far from the only integrator that is incorporating business-resource software as part of their firm's core business model. Alex Fortin, CTS, president of NDS Integration, remarks, "We select software solutions that are tailored to our process and [that] are congruent with our mission to improve the lives of [clients and employees]." At NDS Integration, he adds, the mission lies in its "proven process." He attests that the core of the company's tech stack is centered on its proposal software. 
"From there and through APIs, we integrate our service tickets, inventory, project management and accounting software all together seamlessly," Fortin reveals. In his opinion, with this tailored approach, Fortin and his team can quickly and effectively go from proposal to invoice with minimal touches and maximum efficiency, while maintaining total visibility on exactly where projects are at each stage of the process. 
By integrating software tools into their daily operations, AV and security integrators not only can support innovative integrated projects but also can champion their company's long-term goals of competitiveness and success. Tina Peters, executive vice president of SVT, observes that her organization uses software such as Q360 and Metronome to manage all its workflow and business metrics, as well as its quarterly priorities. Thus, she says, it's easy to keep the entire team aligned on the vision and goals of the company. Peters adds, "There is visibility into project profitability and service-call profitability in real time." 
In short, the organization's core values, brand promise and company goals are all housed in the software and visible to the team, thus allowing each team member to work toward achieving those goals. 
Selecting the Right Software
There's no silver bullet when it comes to finding the most ideal software tool to suit all your needs. There's always going to be a couple of things missing. However, commercial AV and security integrators should select the tool — or combination of tools — that delivers the best results as a whole. 
"For example," Fortin begins, "we ran two very well-known [pieces of] proposal software congruently for over a year to see where the pitfalls were with each." In the beginning, both had similar features and checked off the same boxes. "It wasn't immediately clear which would be the best solution, as both looked good and met our needs," Fortin states. He adds that NDS Integration eventually settled for the solution that Fortin knew could integrate best with the overall process. 
Dan Schmidtendorff, president and CEO of Communication Company, echoes this sentiment, adding, "The key is to establish what is important to your business structure today and [what] has the ability to grow with you." In his case, the efficiency of combining software under one platform was critical to Communication Company's success. 
Jim DeStefano, senior vice president, Unlimited Technology Inc., takes the conversation further, adding that commercial AV and security integrators should look for systems that allow them to manage information with minimal keystrokes and less repetition. "The more keystrokes you can eliminate, the more associates will be able to do their jobs and take care of the customer," he counsels. In essence, he argues that the main idea behind implementing business-resource software is to streamline a company's processes — not to add to the extensive workload already in place. 
Embracing Core Functionality
Peters concurs, noting that one of the main things to keep in mind when looking at a business resource is to try to use the core functionality as much as possible, without requesting multiple custom updates. "When a software is built with too many [customizations], it can be very difficult to upgrade as new releases come out," she reflects. That said, Peters states that enterprise resource planning (ERP) tools are always looking to improve their features. Accordingly, it's important to stay on top of all new releases and features when implementing this software. Ultimately, her advice for AV and security integrators is simple: "…Use the system to its fullest extent and ensure that the team is encouraged and empowered to do the same thing." 
On the other hand, Tungl opines that APIs serve as vital conduits that enable seamless integration. He says, "I want to emphasize the critical importance of software integration through APIs, and [that this] should be a top priority for any forward-thinking organization." Tungl explains that APIs facilitate interoperability between different software systems and applications. "Without effective integration through APIs, systems remain siloed, leading to inefficiencies, data duplication and a fragmented user experience," he reflects. "APIs bridge these gaps, enabling data and functionality to flow seamlessly between applications, thus optimizing operations and improving productivity." 
Synergies between single-purpose software and APIs represent a winning formula for businesses that seek efficiency, innovation and competitiveness. Tungl proclaims that embracing this strategy is a cornerstone of commercial AV and security integrators' digital-transformation efforts, thus paving the way for a future that is more agile, innovative and efficient. 
Benefits of End-to-End Applications
All our interviewees agree that it can be incredibly cumbersome if different business functions are implemented or executed via wholly separate software tools. From Schmidtendorff's perspective, having multiple programs can introduce challenges, leave integration businesses at risk and lead to costly maintenance. "If one of the programs changes, then the system is broken," he explains, "which impacts everyone and can potentially affect the bottom-line profits." 
Many of our interviewees say that, on the other hand, switching to an end-to-end/turnkey solution has proven beneficial in the long run. Schmidtendorff reveals, "Moving to Solutions360 allowed us to eliminate having multiple software platforms that require the ability to integrate and maintain that integration for future years." He notes that using Bluebeam Revu in conjunction has allowed the team to perform takeoffs in a matter of minutes, saving hours of immense labor. 
"Due to the centralization of work, teams can edit shared documents, access files remotely and collaborate in real time," Schmidtendorff proclaims. "Having one platform that moves this data seamlessly between key functions within the organization saves time, money and eliminates mistakes along the way." 
Rising Preference for Turnkey Solutions
The switch from multiple software programs to turnkey solutions is a rising preference among integrators. DeStefano reveals that Unlimited Technology will be implementing a combined ERP application in 2024. The new system, he says, will combine all finance, sales and operations into one cohesive platform, which will eliminate the need for multiple systems. He notes that having a combined software will help increase efficiencies across the organization, which will, in turn, allow all information to be readily available to teams with no double entry. "It will also allow our operations teams in the field to directly input information on jobs and service tickets," DeStefano adds, "thereby increasing the speed and accuracy for information back to the customer, as well as speed to cost recovery." 
Peters chimes in to highlight the many benefits for AV and security integrators that utilize a turnkey solution. As she emphasizes, "Seeing the entire picture of your organization in one place allows you to have all objective facts for your business decisions." Peters notes that, when trying to manage a business, it's very time-consuming and challenging to turn to multiple pieces of software to gather all your data. "Instead," she says, "using one system can make employee onboarding and training easier, as there is only one software required for training. This allows employees to hit the ground running faster." 
All our integration experts seem to agree that having everything in one system really empowers business owners, allowing them to see all open projects and customer service calls. It just takes a few clicks of a button, with no need to mine for data in multiple areas. 
Moreover, end-to-end business-resource software enables integration business owners to zero in on the areas that are experiencing technical issues or that need attention, get real-time data and develop a corrective-action plan. Bottom line: Turnkey business-resource software creates clear accountability for metrics and outputs objective data that commercial AV and security integrators can use not only to make major business decisions but also to guide different teams to improve their workflow. 
Should Integrators Build Their Own Software?
One question that commercial AV and security integrators might have is whether they should invest in creating their own, proprietary software to address their business needs. According to our interviewees, the answer to that question depends ultimately on the integrators' needs, budget and bandwidth for creating and implementing proprietary software solutions. According to Schmidtendorff, designing and building custom business-resource software takes "…endless hours and, eventually, becomes extremely expensive to maintain in the long run." 
Tungl notes that, although companies might have created software in past decades to streamline their business, many have since outgrown that model. "At CTI, we have actually built a robust strategy, as opposed to a proprietary software that supports the organization," he reveals. 
From Tungl's perspective, in-house creations require a significant investment from a development team that must constantly work to add features. "Fast forward to today, we are far more equipped in the technology industry to leverage larger software applications to help customize needs for business operations," he says. According to Tungl, software applications created by large organizations are being implemented daily across the operation. Thus, he asks rhetorically, "When partner organizations provide the software and optimize it for the business, how can we ask for anything more?" 
Likewise, in DeStefano's experience, plenty of software programs are already out there that would fit just about any integrator of any size. Success simply depends on the actual implementation process. He adds, "We were initially using a few different software applications, and, now, [we] believe that we have found the right solution with the [aforementioned] combined ERP system application." 
Partner Organizations' Pain Points
For Fortin, even partner organizations have their own pain points, which means they might not be able to meet all the requirements of a commercial AV and security integrator. "I've yet to see an AV software company that nails the entire customer journey right from marketing to support," he opines. "There's a couple that come close, but not one that completely knocks it out of the park…yet." 
Fortin touches upon the idea of using APIs as a counterargument to building custom software. He remarks, "There is so much that can be done with APIs that I don't foresee why anyone would want to create their own software!" Nevertheless, Fortin acknowledges that integrators may have little bandwidth to actually customize APIs to address their business needs. "Being an AV integrator is hard enough, without trying to be a software engineer, as well!" he quips. 
Impact of AI on Business-Resource Software
Artificial Intelligence (AI) has emerged as the main buzzword in many industries, and the commercial AV and security integration worlds are certainly not immune to the influence of AI. When we asked our interviewees about the impact of AI on business-resource software, their responses reflected a mix of apprehension and anticipation. 
According to Fortin, there is a huge opportunity to leverage AI to help commercial AV and security integrators, particularly with design, programming (scripting) and program reports. What's more, AI can enhance ROI through data-driven insights, enabling integrators to measure the effectiveness of their projects in real time and allocate resources more efficiently. However, Fortin sounds a note of caution, saying, "It's critical that we remember that AI is simply a tool like a calculator, and humans still need to know what information to feed it to get a result — for now." 
Peters, too, believes that AI can create some additional efficiencies within business-resource software. "AI can help with data entry and decrease [the time] it takes to complete certain tasks," she begins. "This should result in higher profitability for the company." In Peters' opinion, although there is a need for the human element to check some of the data, AI can still be highly beneficial. "It can also be used when the software is being developed," she states, "as AI can review code, [and] test and debug software, while it is in the development stage." Thus, with the help of AI, updates to and revisions of software can be rolled out on a quicker timeline. 
An Especially Profound Impact
For Tungl, the impact of AI is especially profound on the marketing landscape. "It's not an exaggeration to say that AI is revolutionizing our industry, shaping the future of how businesses connect with their audiences and deliver value," he observes. "With advanced algorithms and machine learning, we can analyze massive datasets to understand individual customer preferences and behaviors." This, in turn, Tungl remarks, enables integrators to create hyper-personalized marketing campaigns that resonate with consumers on a one-to-one level. "No longer are we limited to generic mass advertising," he emphasizes. "AI empowers us to tailor our messaging to the unique needs and interests of each customer." 
Tungl spotlights AI's ability to predict customer behavior as another game changer. "This means we can anticipate market shifts, adapt our strategies in real time and seize opportunities before our competitors do," he says. From Tungl's perspective, AI doesn't just automate tasks; more importantly, it augments integrators' decision-making capabilities, thereby allowing them to stay ahead of the curve.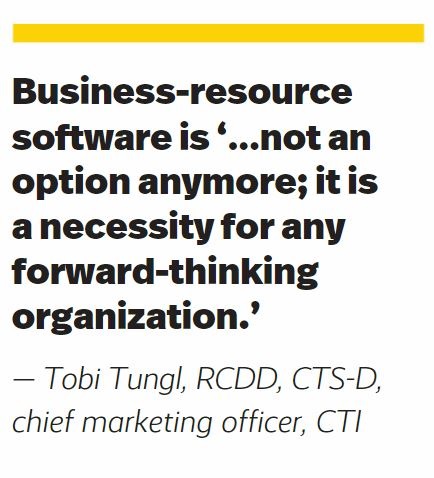 AI can certainly empower commercial AV and security integrators to connect with customers on a deeper level, predict industry trends, enhance customer service and optimize projects. However, there is a need to exercise caution when relying on AI, as it still operates on relatively ungoverned grounds. As Schmidtendorff points out, although AI will advance projects in terms of efficiency, save countless hours and offer opportunities that were not previously possible, there is a level of concern regarding how it will be regulated in the future. 
Speaking along similar lines, DeStefano urges commercial AV and security integrators to err on the side of caution when using AI with their business-resource software, as it is still yet to reach maturity. "However," he adds, "I do think that, when AI matures, it will allow for businesses to get quicker analysis and potential solutions that may not be readily visible."  
In Conclusion
For commercial AV and security integrators, the bottom line when it comes to finding the right business-resource software is that it should ultimately provide a flexible and scalable solution that boosts your company's project-implementation process. What's more, transitioning from multiple software applications to a streamlined, end-to-end solution has allowed integrators to align their company's overall mission and goals, thereby helping them to achieve sustainable growth. 
As Tungl proclaims, having the right business-resource software is "…not just an option anymore; it is a necessity for any forward-thinking organization." 
Want a PDF copy of this report? Download it now and save it for later!
If you enjoyed this article and want to receive more valuable industry content like this, click here to sign up for our digital newsletters!